Real estate photo editor hiring means a company wants to get some experience and non-experience person for editing in a real estate way. thus, the Philippines photo editor experts working hard for building a world-class international real estate photo edit provider. Therefore, we realize if we continue to produce our website then we need some real estate photo editor hiring for making real estate. Our reputation will be up if we can keep providing the highest quality image packages where clients can find us firstly.
So, we need here first to make the process of hiring the job form. These must-haves included job key points, context, description/responsibilities, job requirements/nature, person's educational qualification with skill, salary with bonus, finally the process of selection.
Job key points:
Experienced and non-experienced real estate photo editor.
Job context:
Therefore, we are looking for a motivated and skilled real estate photo editor for our company where this person handles our real estate tasks.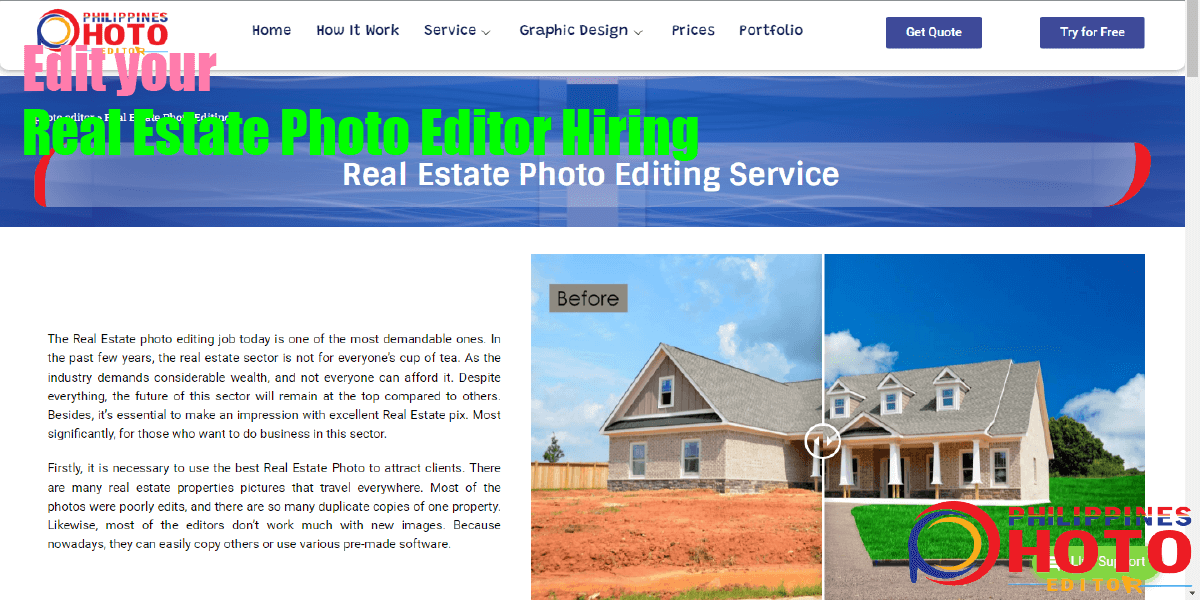 Also, as A Real Estate Photo Editor Hiring, a Person Must Have
very good knowledge of adobe photoshop & illustrator.
Job description:
Photograph homes listed for sale to meet the online marketing and print needs of realtors and their brokerage firm
Take photoshoot space of residences like a common room, living room, bedrooms, bathrooms, kitchen, etc. where show the flow of the space.
Therefore, editing and manipulating photos for lighting, contrast, and watermarks.
In addition, video, image, or anything must have a full idea about real estate properties.
Job nature:
It will be full-time, sometimes can over-time.
Working place:
Work at the office, or work from home.
Requirements:
Educational: Bachelor's Degree in Any Discipline but Must-Have
training about graphics design including real estate for editing. Or, must have can graduation in graphics designers.
Experience: 1 to 5 years. Fresher also can allow applying.
Requirements:
Age 20 to 28 years
Here, both males and females allow applying.
Also, experts' knowledge of photoshop and illustrator.
Salary and benefits:
Negotiable and must have more excellent benefits like lunch, bonus, etc.
So, if you are looking for real estate photo editor hiring then we before writing the process of hiring system. Henceforth, the philippines photo editor website also hires a real estate photo editor. If you can also apply with us then we all include before. In that time, you can apply to our website or if you want to another website apply with submitting your cv then we also can help to find them.
In 24 hours, you can contact us for joining or hiring of all needs. Let's tell you something Philippines Photo Editor has their own Real Estate Photo Editing Service if you wanna hire Philippines Photo Editor just contact us. We provide many services like, Clipping Path Service, Image Masking Service, Photo Retouching, etc. Do you know? how can you work with On the Background ? if you don't know. please read this article we describe here everything about On the background.